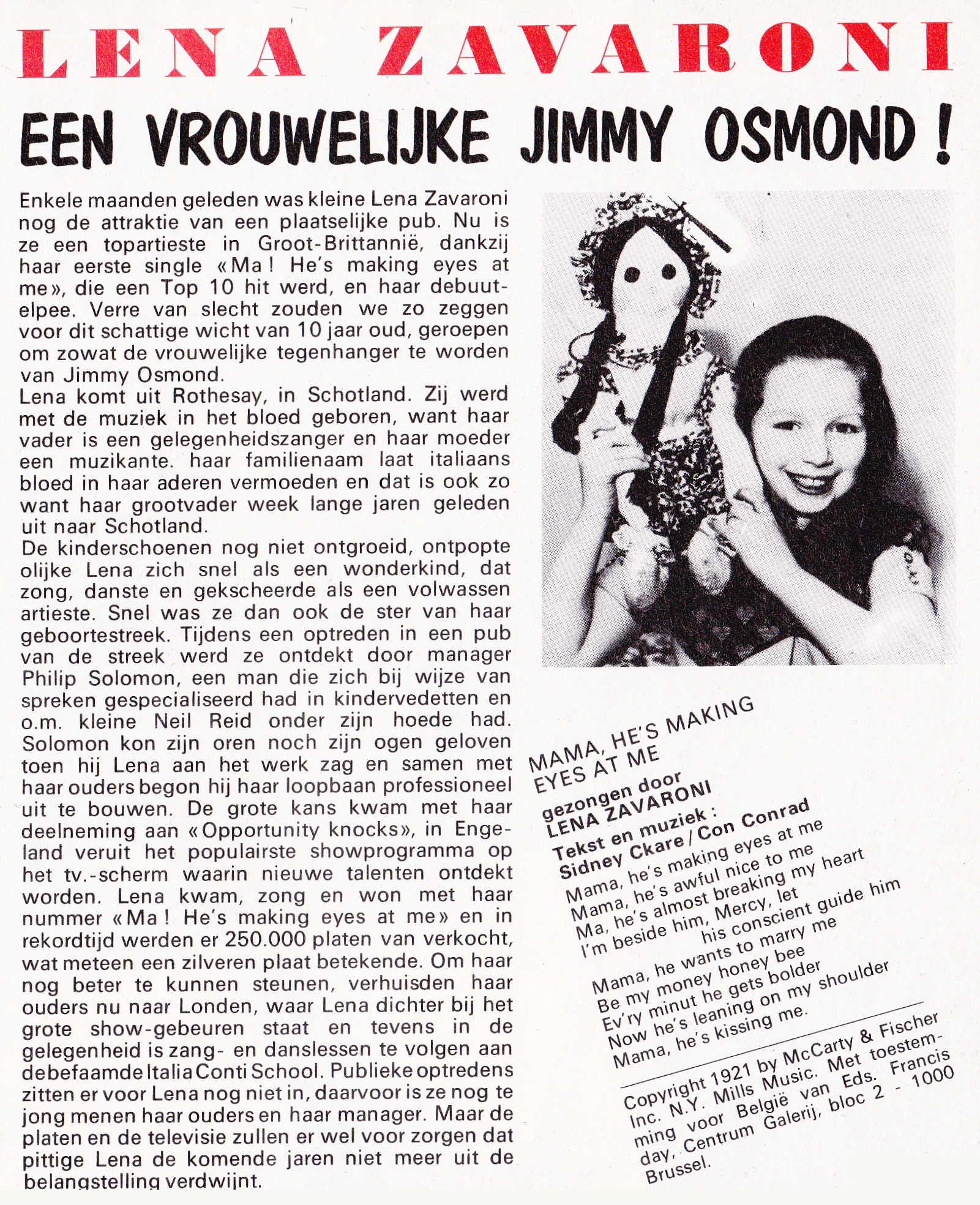 Yeah
Belgium Magazine
L E N A Z A V A R O N I
A FEMALE JIMMY OSMOND !
A few months ago, little Lena Zavaroni was the attraction of a local pub. Now she is a top artist in Great Britain, thanks to her first single «Ma! He's making eyes at me», which became a Top 10 hit, and her debut album. Far from being bad, we would say for this cute 10-year-old weight, called to become Jimmy Osmond's female counterpart.
Lena is from Rothesay, in Scotland. She was born with the music in her blood, because her father is an occasional singer and her mother a musician. her family name suggests Italian blood in her veins, and so it is because her grandfather moved to Scotland long years ago.
The children's shoes have not yet outgrown, merry Lena soon emerged as a prodigy, who sang, danced and joked like an adult artist. She quickly became the star of her native region. During a performance in a pub in the area, she was discovered by manager Philip Solomon, a man who, so to speak, had specialized in children's vets and, among other things, had little Neil Reid under his care. Solomon could not believe his ears or his eyes when he saw Lena at work and together with her parents he started to develop her career professionally. The big opportunity came with her participation in "Opportunity knocks", by far the most popular show program on the TV screen in England where new talents are discovered. Lena came, sang and won with her song «Ma! He's making eyes at me» and in record time 250,000 records were sold, which immediately meant a silver record. In order to support her even better, her parents now moved to London, where Lena is closer to the big show event and also has the opportunity to take singing and dancing lessons at the renowned Italia Conti School. Public performances are not yet in place for Lena, she is too young, her parents and her manager believe. But the records and the television will ensure that spirited Lena will no longer disappear from interest in the coming years.
Magazines
Joepie
OnThisDay3April
---