Granada Reports
Local ITV newscast for the Granada North West region
Screenshot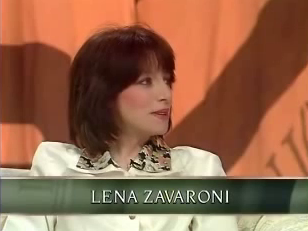 Details
A long-running British local ITV newscast for the Granada North West region, including a short 4 minute lunchtime bulletin, a main 30 minute evening bulletin, and a 12 minute late bulletin broadcast on Monday to Friday, plus one 6 minute evening bulletin on Saturday and Sunday.
Lena appears as a guest on the main 30 minute evening bulletin.
A short referance to Lena Zavaroni is made in the song Lucy Meacock by The Lancashire Hotpots.
Audio

As the only available video clips of the broadcast breaks fair use by having an unlicensed watermark, I will not embed them. Therefore I have provided just the audio.
Robcamstone
Cast
| | |
| --- | --- |
| Presenter: | Lucy Meacock |
| Interviewee: | Lena Zavaroni |
| Interviewee: | Richard O'Sullivan |
| Interviewee: | Dorothy Solomon |
| Interviewee: | Keith Chegwin |
| Interviewee: | Jack Wild |
| Interviewee: | Nicola Rowan |
| Interviewee: | Caroline Rowland |
| Interviewee: | Mike Rowland |
| Interviewee: | Daniel Hunt |
Crew
| | |
| --- | --- |
| producer: | Christine Ruth |
| Director: | Tony Prescott |
Related Categories
Granada Television
---
Comments