Bruce Forsyth's Big Night
London Weekend Television
Lena performs You Keep Me Dancing, before being interviewed by Brucie.
They then perform a duet on Something Extra to close the show.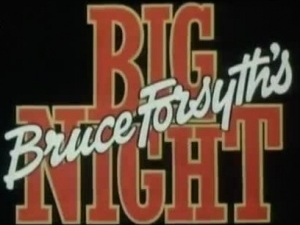 Cast
Presenter: Bruce Forsyth
Co-Presenter: Anthea Redfern
Guest: Lena Zavaroni
Guest: James Hunt
Guest: Tessa Wyatt
Guest: Christian
Guest: Martin Shaw
Guest: Alex Stepney
Dance Troupe: Thirty Two Feet
Vocal accompaniment: The Third Kind
Musical accompaniment: Alyn Ainsworth And His Orchestra
Credits
Choreography: Bryan Rogers
Choreography: Ken Warwick
Musical associate: Don Hunt
Musical associate: Trevor Brown
Programme associate: Barry Cryer
Programme associate: Garry Chambers
Programme associate: Colin Bostock-Smith
Programme associate: Andrew Marshall
Programme associate: David Renwick
Floor manager: John Quilty
Production manager: Myra Hersh
Executive producer: David Bell
Director: John Kaye Cooper
Director: David Crossman
Director: David Bell
Production company: London Weekend Television
Related Website: Bruce Forsyth's Big Night[25/11/78] (1978)
Note:
It seems to be a theme with all media databases that the information they given is limited and open to question.
In the case of this TV programme they have not listed the guests on the show and have defined it as a film.
Robcamstone
Related Categories
London Weekend Television
---