Jerry Lewis MDA Labor Day Telethon
Charity fundraising Telethon for the Muscular Dystrophy Association
Broadcast on US Television in 1974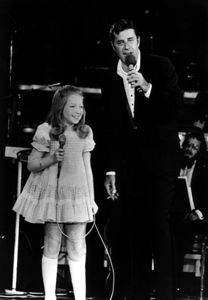 Details
On day 1 Lena sang "Ma! He's Making Eyes At Me" and "Help Me Make It Through The Night".

The following day (day 2) she returned to the show to chat with Jerry, and performed "Swinging On A Star" and a solo version of "Rock A Bye Your Baby With A Dixie Melody". She then sang a duet of "Rock A Bye" with Jerry before she sang another version of "Ma! He's Making Eyes at Me".
The Telethon broadcast
Based on my research it would seem that Jerry Lewis MDA Labor Day Telethon took place on the weekend leading up to Labor Day and in 1974 Labor day fell on 2 September which would place the broadcast dates for that years Telethon as 31 August 1974 & 1 September 1974.
Jerry Lewis MDA
Jerry has been honorary chairman of the Muscular Dystrophy Association for many years.
Telethon proceeds: WebCite query result
Labor Day in United States
Labor Day is on the first Monday of September every year. It was originally organized to celebrate various labor unions' strengths of and contributions to the United States' economy
timeanddate.com: Labor Day in United States
Related Categories
US Television
---
Comments